Expansion
Former Tata Group chairman Cyrus Mistry died in a road accident on the Ahmedabad-Mumbai highway. His car collided with a road divider on the bridge of the Surya river. Union Minister for Road Transport and Highways Nitin Gadkari has termed not wearing seat belt in the car while driving is wrong. He said, it is equally important for the people sitting in the back of the car to wear a seat belt as it is for the people sitting in the front seat. Cyrus Mistry, who was sitting in the back seat of the car, was not wearing a seat belt.
Piyush Tiwari, founder of Save Life Foundation, an NGO working on road safety, said that 91 per cent people in the country believe that when they violate the back seat belt, the police do not stop them. In the survey report, 37.8 percent people said they think it is not necessary. 23.9% of the people interviewed said they had very little knowledge about the rear seat belt.
Seven percent people said 'yes' about the back seat belt
In the year 2019, 'Save Life Foundation' prepared a survey report on seat belts and children's safety. In 2017, 26896 people were killed in road accidents due to not wearing seat belts. 70.5 percent of the people surveyed said they knew that the rear seats in the vehicle were belted. When the people in the back seat were asked whether they were wearing seat belts, 7 per cent of them answered 'yes'. There are two main reasons for not wearing seat belts. One, people understand that it is not necessary. The percentage of such people is 37.8. There were 23.9 percent people who had little knowledge about the back seat belt. 27.7 per cent people said they were aware that there is such a provision in the Motor Vehicles Act.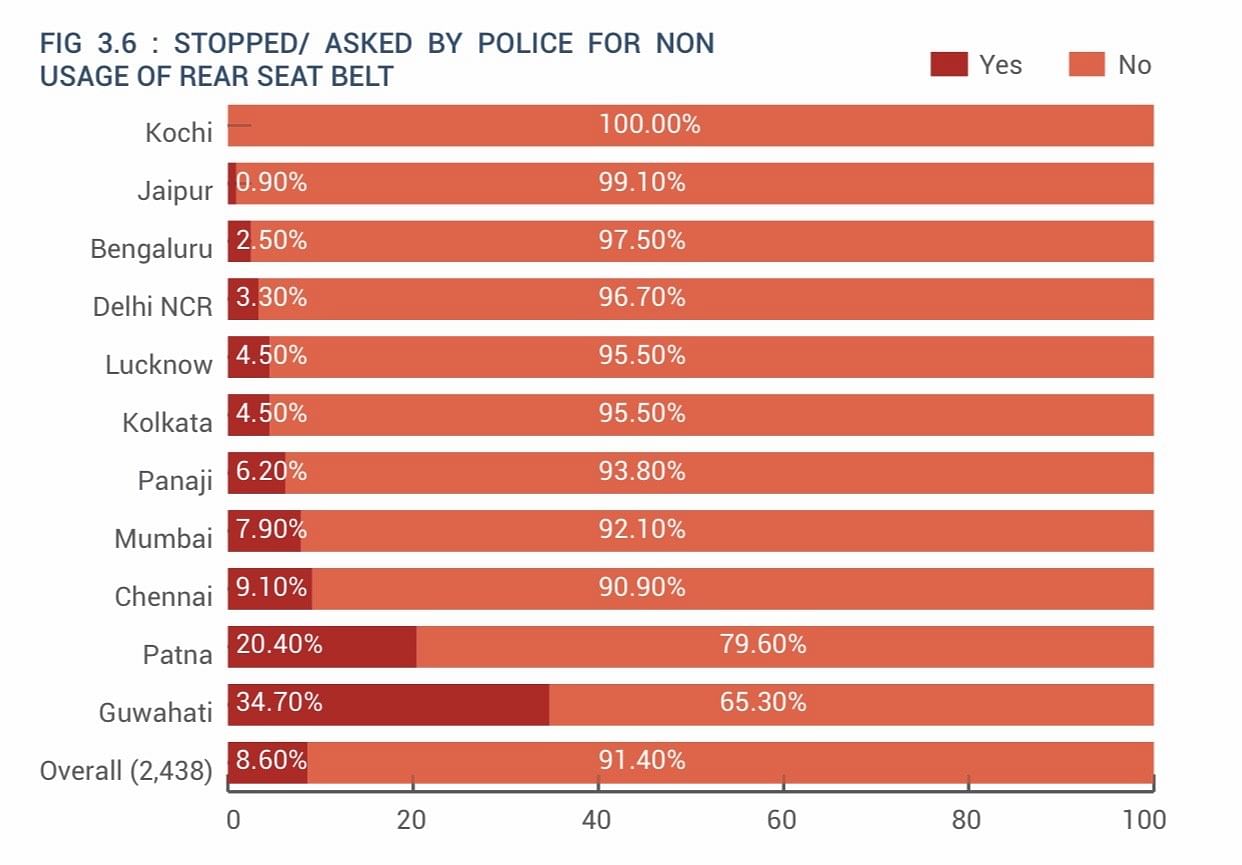 Not a single person wears a seat belt in these three cities
When parents were asked about this, 77 percent said that their children sit in the back seat without a seat belt. Surveys conducted in Mumbai, Delhi, Jaipur, Kolkata, Lucknow and Bengaluru have revealed that 98.2 per cent of the people there do not use the back seat belt. Out of this, talking about Kolkata, Lucknow and Jaipur, there is not a single person who wears a belt while sitting on the back seat. Most of the people said that the police would never stop them for not wearing the back seat belt.
11.2 per cent school/bus/van drivers reported that all passengers in the school bus/van are fitted with seat belts.
15.1 per cent of parents said the school bus had seat belts for everyone.
91.4 per cent people said they feel that a strong law is necessary for child road safety.
20.1% parents said to have child helmet
92.8 per cent people said they are aware of the safety aspect of child helmets.
63.3 per cent of the children admitted that they start learning how to drive between the ages of 9 and 14.
In the year 2017, 9400 children were killed in road accidents.

Apart from children (9-14, 11-17), many other target groups were included in the survey. These include parents (children in the age group of 0-5, 6-9, 9-14, 11-17), school authorities, road safety experts, ordinary citizens and drivers (school buses, vans, cabs).
,