Expansion
The Bharatiya Janata Party has taken a jibe at Congress' 'Halla Bol' rally to be addressed by Rahul Gandhi on Sunday. BJP spokesperson Shahzad Poonawalla while addressing the media said that NASA scientists are also surprised by the repeated launches of a failed rocket. They are contacting Congress asking how the party is managing it. Poonawalla said that the Halla Bol rally is the fifth season of 'Rahul Relaunching'. Earlier four seasons have flopped. Not only did Poonawalla stop at this, he also attacked Mamta Banerjee, KCR, Arvind Kejriwal and Nitish Kumar. He said that all these leaders are working on the lines of the movie 'Main Hoon Na'. The condition of these leaders became like a pomegranate (chair), five sick.
Congress today's Halla Bol rally

Let us inform that today the Congress is going to start the Hallabol campaign against price rise, unemployment and GST hike on essential commodities. Many big leaders of Congress including Rahul Gandhi are going to participate in this rally. Apart from this, Rahul Gandhi will start a 3,500-km India pair journey from Kanyakumari to Kashmir from September 7.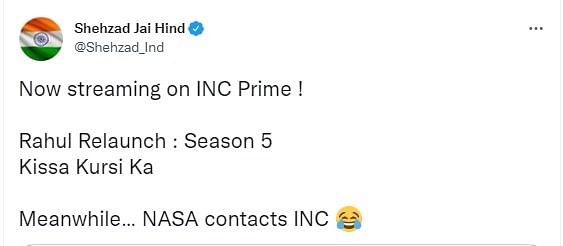 Rahul Gandhi targets PM Modi

Before Congress's Halla Bol rally, Rahul Gandhi has targeted the Modi government. He tweeted, 'People busy in earning Raja friends are suffering from inflation. Today, people have to think ten times even before buying essential goods. Only the Prime Minister is responsible for these problems. We will keep adding voices against inflation, the king will have to listen."
Jairam Ramesh targeted the Modi government

Senior Congress leader Jairam Ramesh said that the biggest problem facing the public today is inflation and unemployment. With this rally, the insensitive Modi wants to send a message to the government that the people are suffering from inflation and unemployment, a solution should be found.
,